hours

Contact us

Vehicle tips
who we are
Auto Performance Repair & Customs Offers Auto Repair Services You Can Count On!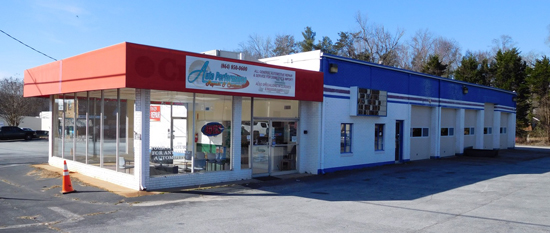 Auto Performance Repair & Customs has brought in new technicians and equipment to serve the community. Auto Performance also specializes in body work and custom fabrication, along with auto repairs and maintenance with a higher level of quality and professional service.
Since 2011, Auto Performance Repair & Customs has provided motorists in the Easley, SC 29640 area with comprehensive auto repair services that include 4x4 Services, Brakes, Car & Truck Care, Domestic Cars & Trucks, Electrical Services, Electronic Services, Engine & Transmission, Engine Maintenance, General Services, Heating and Cooling Services, Import Cars & Trucks, Miscellaneous Services, Tires, Towing, Transmission Services, Uber Inspection and Undercar Services. Our goal is to offer the best services available at affordable prices to get you back on the road in no time.

You'll be hard-pressed to find the same level of expertise that our auto mechanic specialists provide! We have years of experience working on both domestic and import vehicles of all makes and models and can work with you to find cost-effective repair and maintenance alternatives.

For a high-performing vehicle, trust Auto Performance Repair & Customs with your car, truck, or van. To learn more about the services we offer, please contact us by phone at 864-850-0600 or send us an email. We also invite you to learn more about our dedication to you, our valued customer.
Auto Performance Repair & Customs
6744 Calhoun Memorial Hwy
Easley, SC 29640
8:00AM - 6:00PM
8:00AM - 6:00PM
8:00AM - 6:00PM
8:00AM - 6:00PM
8:00AM - 6:00PM
Closed
Closed

Testimonials
Outstanding customer service. Rick the owner is great, he will work with you to give you the best deal possible. He doesn't try to sell you things that you don't need, like most shops. The mechanics really know their stuff and do quality work and they get it done fast. I highly recommend this shop to everyone for all of your repairs. I will never go anywhere else, I'm a customer for life!

Shirley H.

I found a screw in my tire and I was driving down the road and saw that the shop was open. I walked in and spoke with the owner and he had me repaired and on the road under 10 minutes. They do custom car work as well as whatever it is you may need fixed. Very friendly shop with excellent service.

Adam C.

Rick and his mechanics do a great job of repairing my cars. He is reasonable and does his best to give me the best deal.

Cece R.

Rick and the team here are awesome. They diagnosed and repaired my car in a very effecient manner and the customer service was outstanding. Go by and see them you wont be disappointed.

Emilio P.

Rick and his team fit me in within 24 hours! As a single mom, and being absolutely clueless he has been thorough in his communication and in educating me! I am so grateful to have found a trusted family mechanic!

Kelsea F.

Rick is very nice person. I highly recommend this place for any mechanic issue. He fixed it in a timely manner. He worked with me on my schedule and made sure it was done in time. Some parts will have a warranty. This place is 1 hr from me but I will be back for any problem I have with any of my vehicles.

Nicole W.

I noticed my friends air pressure was low in the tire. No tire gauge we had worked so we went here last minute, it turned out there was about a 2 inch screw stuck in the tire. They fixed it and sent us on our way! Very good service!

Rileigh M.

My second visit was as good as the first. I had relatives visiting from out of the country and my truck developed a labored cranking problem. I came in with a perceived starter issue which, when they diagnosed the truck, they confirmed that was the issue. Rick quoted me a price for the work ordered the part(s) and had me back in my truck within less than 24 hrs, of which most was the time it took to get the part(s) overnight. Honesty and integrity is always nice to deal with.

Mike G.

Courteous, knowledgeable, and fair. Highly recommended.

Barbara F.

I purchased a 1977 El Camino a few years ago, and it needed some attention to get it running smoothly again. It also needed a face-lift, so I stopped in at Auto Performance to see what they had to say. Rick was very helpful and provided the knowledge necessary to get the vehicle looking and running great! I am very pleased with their efforts at Auto Performance, especially the subtle ideas to improve the look and driving of my vehicle. Rick was very upfront with all the necessary improvements and costs involved. I highly recommend Rick and his team for your car needs. Thanks guys.

Jim H.

My second visit to this shop. First one was for a repair to my tailgate which they repaired very professionally and I was impressed. However, I didn't know they also did lube and oil change until today. Great price for synthetic oil. I will be back whenever I need any type of vehicle service.

Wes

Rick and his team did an excellent job on replacing the exhaust system on our 2009 Mustang. There were a couple of questions that came up and Rick was quick to call and get the go ahead on the resolution to the issues. He was able to complete the work with in the short time frame that we had. Excellent work, Great atmosphere, customer service is heads above what most places provide today. We will return for many more enhancements to the vehicle.

Terry S.

This is my very first review I have ever written in my life so that alone says something about this place. One word describes this place best " flawless". My very first visit to Ricks shop and it was like I've known them for years. Remarkable knowledge about vehicles. He has a mixture of old school tech's with just enough new school technology to lap the competition twice! If you want a repair shop that is for the people this is your place. Tight on budget but need the job done right? This is your place. I have done my own repairs since I was 13 years old...I don't trust anyone with my vehicles until I came to this place!!! I recommend this shop to everyone! They fix absolutely everything! One stop shop, in and you are out the door blink and you would have missed something. This will become my families number 1 shop for generations to come. If you have never been here dont miss out. Nobody and I mean nobody has beaten his work or prices.

Charles W.

I made the drive up from Greenwood to Rick's shop in Easley because I know I can trust him and his crew to do reliable work at a reasonable price. My Malibu has quite a few miles on it, but the Auto Performance team treated it--and me--like we were the most valuable project on their list. Thanks, guys!

Claire F. K.

RICK AND HIS CREW DID A GREAT JOB ON MY VAN, THEY FIXED ALL MY PROBLEMS AND WORKED ABOVE AND BE ON AND AROUND MY SCHEDULE. I WOULD RECOMMEND THEM TO ANYONE AND WILL

Mike R.

I can't say enough wonderful things about Rick. He and his crew do a fanrtastic job. Rick takes the time to explain everything he is going to do. He called me gave me quotes before he did any work. Being a single mom and my son in college that meant a lot. He has worked on my son's car now a couple of times and has it running great! Check with Rick and get a quote! You will not regret it!

Tracey W.

Thank you to Rick and the Auto Performance crew for caring enough to help save our old Ford Taurus... "Little Blue" is back home and happy. Thanks for all the love and work you put into it.

Gloria & Joe W.

These guys did great! They took real great care of my classic and always stayed in touch, giving me updates on my car. Their carb guy, can't say enough about him... He deserves a car or something. I was really considering selling it, but not after I heard how good it sounded, Thanks a lot guys!

Justin B.

Great people! Rick and his crew are willing to take the time to figure out what your problem is. I wouldn't take my car to anyone else! Very honest people. Give them a try

Ashton Manely

Excellent service and personal attention to your needs. Highly recommended!

DeeDee S.

Auto Performance has good friendly service.

Carla P.

I like this business, they keep me informed and they are very good. Rick is very knowledgeable, personable, and he explains things in a way for me to understand, which I appreciate. He takes his time to answer my questions.

Gwen S.

Dependable and very prompt in resolving the issue. Satisfaction guaranteed!

Carl B.

They were nice enough not to charge me since I had the part.

Quentin C.

No problems with the service or business. The employees were very nice and friendly, and the pricing was good.

Bobbie M.

Very friendly people. Very satisfied with the service and I will be coming back!

Don S.

Rick and his crew are God-sent. They are always ready to do their best. I have recommended Auto Performance to several people. I want them to have the same experience that I have enjoyed. They go far and beyond to ensure your car will be ready for you in an honest time and with an affordable price? So blessed to have them around.

Gwen C.

The whole process was explained very well and I knew what was going on at all times. Very trustworthy employees and manager, he really wanted to save me money when fixing my car.

Jake O.

Nice and knowledgeable, problem fixed!

Jenna Z.